Change Your Gift-giving Ways--Convert Your Loose Change Into a Gift-giving Fund
February 10, 2012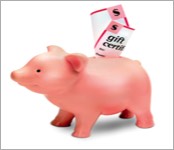 According to Coinstar
about $10 billion in loose change sits idle in U.S. households. Makes you wonder why some people are always reaching in their wallets for "new" money or a credit card instead of tapping into these funds. Admittedly, loose change is not as convenient as dollar bills, but it is worth the same. So, where's the love for loose change?

Truth be told, it is hard to love something so dirty, takes up so much space, and is inconvenient to carry around and use. Loose change is one of the rare things in life that is better as a bill. But converting loose change into dollar bills can be burdensome and costly. And how many of us are willing to pay a fee, especially a nearly 10% fee, to convert our loose change into dollar bills.

Of course, we have the option of lugging our change to a bank or credit union to be counted and deposited. Some banks and credit unions offer these services at no cost. However, this option seems just as unattractive as paying to exchange change for dollars. Millions of us have not visited a bank or credit union in years or use Internet only banks.

So, what to do with all of your loose change that is lying around collecting dust instead of interest? Create a gift-giving fund for holidays, birthdays, and other special occasions.

An easy way to fund your gift-giving budget is to take your loose change to a Coinstar machine (found in many supermarkets, drugstores, convenience stores and restaurants) and exchange it for a no-fee e-certificate or gift card. Coinstar offers e-certificates for iTunes, Amazon, Lowes, Gap, Old Navy, Regal Cinemas, CVS, Starbucks, Chili's, Papa Johns and more.

For example, if you want to convert your change to an Amazon e-certificate (which is a paper gift card that looks like a receipt):

Set up an account on the Amazon.com web site

Visit a Coinstar machine and elect the Amazon option. You will receive a receipt listing the amount of change deposited and a redemption number

Log onto Amazon.com and choose "Gift Cards" from the top navigation menu, click on the "Redeem Amazon Gift Cards" link under the shopping cart icon on the right

Enter the redemption code from your Coinstar receipt

Apply the gift card to your account and watch your gift-giving budget grow
Also, if you enjoy buying music, videos, audiobooks, TV shows, and mobile apps via iTunes, consider converting your loose change into an iTunes e-certificate. The redemption process is similar to Amazon's and you can purchase a lot of music and apps with one small jar of change.

Converting your loose change to a Coinstar e-certificate or gift card is one way to fund your gift-giving budget. Start now and you could have quite a stash when the holiday season comes back around.