College—An Experience in Debt
January 9, 2012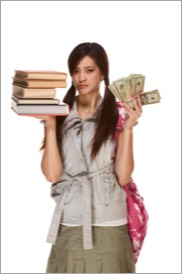 We have all heard that getting a college degree is an investment in you and in the future. Surveys reveal that people with a college degree are more likely to be hired, promoted, and make more money than those without a degree. However, many feel that the recent recession has neutralized the "power" of the college degree.
So, is it still worth investing in a college degree?

For most people the answer remains "yes." A college degree is as much, or more, about status as it is finances or economics. Even though the time and money spent pursuing a college degree could be spent other ways, it is hard to imagine most people abandoning the dream of getting a college degree. In fact, college enrollment in the U.S. continues to increase year after year, and so does the cost.
If you or a loved one is planning to invest valuable time and money in a college degree, consider doing it on the cheap. Cheap as in less money, not quality...
Despite all of the scary reports you read or heard about the cost of college, you do not have to spend $160,000 to get a degree. The cost of going to college varies based on many factors including whether the school is public or private, two-year or four-year, for-profit or not-for-profit, in-state or out-of-state.
According to the not-for-profit College Board, the annual cost to attend college (tuition and fees) in 2010-2011 was on average:
$3,000 - public two-year college (community and junior colleges)
$8,200 - public four-year, in-state college or university
$21,000 - public four-year, out-of-state college or university
$14,500 - private for-profit college or university
$29,000 - private four-year not-for-profit college or universityRoom and board cost an average of $8,500 per year regardless of which college or university you attend.

With an approximate idea of what college will cost in terms of tuition, fees, room and board, it is time to decide if an in-state or out-of-state school is best. Going to an in-state school will save you a lot of money, and there are a number of two-year colleges around the nation to choose from. For a list of two-year schools, by state, go to
www.utexas.edu/world/comcol/state/
.
Additionally, there are several web sites that rank U.S. based community colleges. A few to check out are:

www.washingtonmonthly.com/college_guide/rankings_2010/community_colleges.php
www.aspeninstitute.org/policy-work/aspen-prize/eligibleinstitutions
If you plan to attend an in-state two-year school that will allow you to transfer to a four-year school, you can save even more money. Many community colleges have partnership agreements (called articulation agreements) with four-year universities that specify a list of course credits that can be transferred to the four-year school. Some states, like Pennsylvania and Virginia, even guarantee admission into the state's public four-year college to students who complete an Associate's degree at one of the state's community colleges. Check out
www.finaid.org/otheraid/partnerships.phtml
for a list of four-year colleges, by state, with articulation agreements with community and junior colleges. Verify the community college's partnership agreements before enrolling.

Combine the savings of attending a two-year college with other debt reduction techniques:

Live at home
or with a relative while attending school. Even if your parents charge you room and board, it will mostly likely be less than what you would pay for an apartment or dorm room with a meal plan. If living at home is not an option, get a roommate or two, or three
…
Work part-time
while attending school full-time or part-time, but make school your priority.

If you work, take advantage of your employer
'
s tuition reimbursement or other education assistance program
. Many employers will pay full tuition and fee costs to workers pursuing a degree or certificate in a field related to their work. Some employers extend these benefits to part-time employees as well. If your employer does not offer these benefits, ask if they would consider offering the benefit to you
—
the worst that can happen is that they say
"
no.
"
Apply for student aid grants
. Even though relatively inexpensive, community colleges do offer financial aid. Consider applying for Pell Grants
—
which are awarded to part-time and full-time students who meet the criteria. Unlike student loans, Pell Grants do not have to be paid back. To apply for a Pell Grant, you must first complete the Free Application for Federal Student Aid (
FAFSA
).

Save for a year or two before starting school
.
One of the reasons going to a two-year school is so wise and attractive is the relative low cost of attending. If you delay starting college for a year or two while working full-time, you may be able to save enough to pay the full cost of college yourself.

Take advantage of available tax deductions and credits
(Tuition Deduction, Hope Scholarship, Lifetime Learning Credit, and American Opportunity Tax Credit). If your school does not automatically send you Form 1098-T to verify the tuition they received, request the form be sent to you. Also, review the
www.collegesavings.com
web site and
IRS Publication 970
for more information about higher education tax deductions and credits.Unfortunately, status remains a primary driver in deciding where to go to college. The result is thousands of college graduates saddled with debt and a degree that means less and less in terms of getting and keeping a job. This debt puts them financially behind their peers who took advantage of good two-year colleges before transferring to a four-year school or entering the workforce. Graduates with little or no college debt can start participating in their employer provided retirement plans sooner and save for a home or other items.