Stop Asking for Help With Technology and Start Messing Around With it
February 28, 2014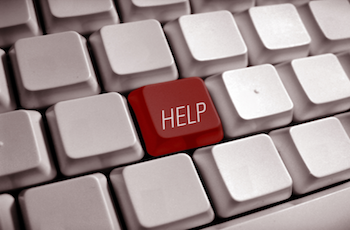 When I decided to create the BenefitsAll website and blog I never considered hiring a techie to build the site for me. I wanted to try to do it on my own. I've always been this way when it comes to using different computer applications. I was never afraid of messing something up by pushing this or that button. I always figured I could delete what I added or recreate what was previously there. Later I learned a safer way of messing around computer systems, but my desire to click never went away.
Now I am no tech expert, not by a long shot. I will ask for help when I need it. I did get some help with my website. But I never ask for help before I really need it. And you shouldn't either.
Must Know Technology
Some of the technology you use in employee benefits administration is universal, like word processing, spreadsheets, and email. And some benefits technology is unique to your workplace and job. This technology includes but is not limited to Human Resource Information Systems (HRIS), and insurer and third party administrator (TPA) systems.
Word processing
(e.g., Word)
- Know what templates are available in your word processing application. There are templates for forms, letters, memos, brochures, newsletters, reports and more. Know how to create a letter, envelope and labels. Become a mail merge expert using mail merge data from different databases like Excel or your HRIS system. Master creating a table of contents and lists for reports and other large documents
Spreadsheets
(e.g., Excel)
- Know what templates are available. There are templates for invoices, budgets, flow charts, expense reports and more. Become familiar with the functions tool and learn how to create basic formulas. Master using the vertical lookup (VLOOKUP) function. In addition, learn how to create mail merge databases, multi-layer if/then statements and charts
Tip: If you don't know how to access a Word or Excel template or how to start a mail merge, click on the Help menu in each application and type in templates or mail merge. Google: how to do a mail merge in Microsoft Word. Or just log on to the application and start looking at the drop down menu options until you find what you're looking for.
Human Resource Information System
- HRIS systems contain much more than employee benefits data. These systems typically start with applicant data that is converted to an employee record when the applicant is hired. There may be a benefits and salary administration or performance management module. As part of the benefits staff, you will use the benefits admin module often, but it is a good idea to learn how to use all of the modules. Sometimes the data that is entered into other modules, like the employee record, will affect what you can enter into the benefits module. To troubleshoot any issues if there is a conflict between modules, you need to know about both
To effectively use an HRIS system, use a test database to practice setting up an employee record from application to termination. You do not have to worry about messing something up in this
practice
environment.
Collaborate with other HR staff members to learn how to use the modules they primarily use. Offer to serve as a back-up when they are out of the office or overwhelmed with work. They will be more inclined to teach you what they know if they know it may help them in the long run.
Learn how to create your own reports from the system. Again, use the HRIS test database to practice creating your own reports. You can also use existing reports and modify them for your needs. Remember to save your modified report with a new file name. You don't want to save over an existing report, even in a test environment. Pay attention to how existing reports were created so that you are not just copying or building on top of something, but that you really understand it.
Insurer and Third Party Administrator Systems
– Most of these systems involve transmitting data from your HRIS system to the insurer or TPA's system. You should receive specific instructions from the insurer, TPA or a member of your IT department on how to transmit this data. However, if you do not have an HRIS system, you may have to input data directly into these outside systems. Again, you should receive specific instruction from the insurer or TPA on how to use these systems.
Know More, Do More
When working as a benefits professional, you may have access to some IT support. However, the expectation is that you will use the technology available to you with minimum instruction. But that does not mean you should learn just enough to do your day-to-day work. Learn as much as you can about these systems so that you can improve your work.
For example: Say you need to send 15 COBRA election notices to recently terminated employees. What technology skills do you employ to get the job done accurately and quickly?
Do you type 15 separate notices in a word processing application?
Do you create one Microsoft Word mail merge document and individually type in the names, addresses and dates that will merge with the master document?
Do you query a list of the merge data from your HRIS system, save it in Excel, and format it to merge with the Word master document? Or
Do you process the notices within the HRIS system's COBRA module?
If your skill level is not past item #2, you'd better hope you never have to send out 500 COBRA notices.
You will use the latest technology in your role as an employee benefits professional. Social media, websites, blogs, webcasts and videos all have their place in today's benefits office. But you still need a solid foundation in composing, merging and comparing documents. You also need a good understanding of database management systems like Excel, HRIS and insurer and TPA systems. And, you need to know how to extract the data from these systems to create reports.
Developing your technology skills requires a desire to learn and a willingness to mess around.
What technology do you use most at work?